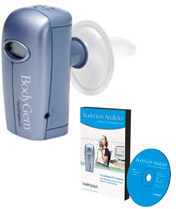 This article will compare the Korr MetaCheck with the Microlife BodyGem.
Both indirect calorimetry units measure RMR – Resting Metabolic Rate / BMR – Basal Metabolic Rate
Let's start with validation.  Both indirect calorimeter devices have been tested against the gold standards of the metabolic rate testing, the Douglas Bag and hospital devices such as the DeltraTrac Medical Cart.
Our device is being used to assess metabolic changes in The Biggest Loser™ contestants. "We chose to use the MedGem device based on its accuracy in comparison to other indirect calorimeters." said Dr. Robert Huizenga, Associate Professor of Clinical Medicine at UCLA and Medical Advisor to The Biggest Loser
The BodyGem is the same type of indirect calorimeter as the MedGem, but it's designed for professionals who don't need to make insurance claims.
Filtration
The Korr Filter is in the device, so it doesn't get changed with each client. The filter is replaced every 100 usages.
The Body Gem filters are in the disposable mouthpieces, so that each client breathes through a NEW filter.
Portability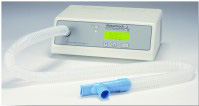 The Korr MetaCheck is a box-type design and it sits on a desktop.
The BodyGem is a compact, hand-held design, and it comes with a carry bag to allow you to perform RMR measurements anywhere.
Report Printing
The Korr Metacheck is designed to be used with their printer and paper.  Their preprinted paper is $20 per 100 sheets.  With 2 sheets per test, that's an extra $.40 per test.
BodyGem Analyzer can be loaded on various computers and printed from any printer.  No special paper is needed.
Device Sensors
The Korr MetaCheck sensors must be replaced every two years at a cost of $225.
The BodyGem has 2 year warranty and the sensors do not need to be replaced.
Mouthpiece Pricing
Korr mouthpiece tubes are $7 each.  The bacteria  filters are $6.25 each.
BodyGem mouthpieces with integrated medical-grade filters are $9.50 each.
Device Pricing
The BodyGem System Kit is $700 less than the Korr MetaCheck System
And an entry-level priced BodyGem 40 System Kit is available
To get more information:
Review the BodyGem System information
Call me directly at 720-431-1461
Or leave a voicemail at 1-866-285-8296 and I'll call you back
I wish you the best of health!
David Wilcoxson
BodyGem | BMR Calculator | Indirect Calorimetry | BodyGem Analyzer | BodyGem Mouthpieces | BodyGem Price
Korr and MetaCheck are registered trademarks of Korr Medical Technologies, Inc.