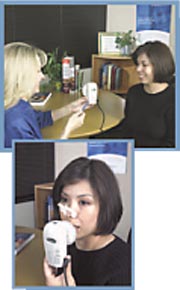 Indirect calorimetry devices such as expensive medical carts have been used in hospitals for years, but there hasn't been a easy to use, low-priced option to measure your clients RMR… until now.
The BodyGem indirect calorimeter device is a state-of-the-art, handheld device that accurately measures oxygen consumption (VO2) to determine resting metabolic rate.
The portable BodyGem can measure your clients RMR in 5-10 minutes with the push of one button.
The BodyGem has been validated against the leading medical cards and found to be accurate and reliable.
Our device is being used to assess metabolic changes in The Biggest Loser™ contestants. "We chose to use the MedGem device based on its accuracy in comparison to other indirect calorimeters." said Dr. Robert Huizenga, Associate Professor of Clinical Medicine at UCLA and Medical Advisor to The Biggest Loser
The BodyGem is the same type of indirect calorimeter as the MedGem, but it's designed for professionals who don't need to make insurance claims.
The measurement is easy to administer and provides accurate results in only a few minutes. The easy to use device allows for personalization and accurate development of individual nutrition and weight management goals.
A wide variety of health and fitness professionals – Personal Trainers, Dietitians, fitness clubs, and many others – use the BodyGem, to ensure accurate and reliable measurements for use in their weight management programs.
"I'm able to provide my clients with a scientific, proven solution.
Over 90% of my clients are achieving their goals."
Brian Barkley
Owner, Functional Conditioning
To get more information on the BodyGem Indirect Calorimeter:
Click on BodyGem
Call me directly at 720-431-1461
Or leave a voicemail at 1-866-285-8296 and I'll call you back
Here is a BodyGem FAQ page
I wish you the best of health!
David Wilcoxson
BodyGem | BMR Calculator | Indirect Calorimetry | BodyGem Analyzer | BodyGem Mouthpieces | BodyGem Price