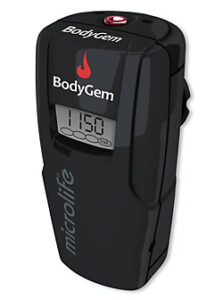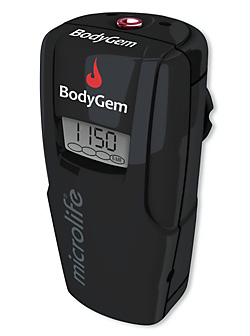 The BodyGem indirect calorimetry device quickly and accurately measures your clients RMR
The BodyGem is portable, reliable and simple to use
Measured RMR is superior to a BMR formula which
can only estimate your clients metabolic rate
Knowledge of their RMR promotes greater weight loss
results for your clients
Increase your revenue for personal training and
nutritional assessments
Our device is being used to assess metabolic changes in The Biggest Loser™ contestants. "We chose to use the MedGem device based on its accuracy in comparison to other indirect calorimeters." said Dr. Robert Huizenga, Associate Professor of Clinical Medicine at UCLA and Medical Advisor to The Biggest Loser
The BodyGem is the same type of indirect calorimeter as the MedGem, but it's designed for professionals who don't need to make insurance claims.
Your clients look to you for success.
Their goals are as diverse as their needs. You know each of them needs a unique solution to reach their goals, but how do you profitably and conveniently provide it?
Introduce your clients to their Metabolic Fingerprint or Resting Metabolic Rate – RMR, which is the unique number of calories your client burns each day without exercise or activity.  Their Metabolic Fingerprint accounts for up to 75% of their total calorie needs.
An accurate Metabolic Fingerprint measurement provides the definitive answer when creating a personal program for each of your clients. This means that whether you're working with a client to lose weight, build strength, or complete their first fitness event, the plan you prepare will be based on their needs and deliver the results they are looking for.
The BodyGem indirect calorimetry device is the handheld, portable and profitable tool that gives you an accurate Metabolic Fingerprint measurement result in 10 minutes or less.
Simple – To perform a measurement, your client simply breathes into the BodyGem, which measures their oxygen consumption (VO2), the resulting RMR number is clearly displayed on the device's LCD screen.
Accurate – The BodyGem has been validated against the gold standard Douglas Bag, and other commonly used metabolic carts
Convenient – The BodyGem comes with a portable carry case, it's self-calibrating, easy to administer, and provides a result in 10 minutes or less.
Affordable – The BodyGem is available in different measurement capacities to ensure your organization has the right device for your needs
Create the personal plan that works with each clients unique needs
Once you've measured their resting metabolism, create a personal plan just for them – simply and easily – with BodyGem Analyzer software.
Regardless of the specific diet or exercise plan they follow, their Metabolic Fingerprint and unique lifestyle and occupation factors, result in a personalized plan that they can take with them and follow.
BodyGem Analyzer is easy to use, and not only provides your clients with a unique actionable plan, but also enables you to quickly create a unique plan for each individual.
BodyGem Analyer creates a three-page report for your client, that educates them on their metabolic rate, and gives them a Daily Calorie Budget which is based on their unique needs.
Offer your clients the best possible results by incorporating the BodyGem tools and solutions into your programs.
There isn't a simpler, more accurate or profitable way to tailor each client's program for ultimate success.
Microlife ensures your success by providing the best aftermarket support in the industry. Microlife's BodyGem products come with a complete BodyGem implementation binder, BodyGem marketing and promotional materials, 1-800 customer support, and online training for the BodyGem, BodyGem Analyzer software and BalanceLog software.
We offer two types of System Kits to meet your needs: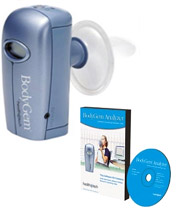 The BodyGem System Kit Includes:

♦ Body Gem Indirect Calorimeter with a 2-year warranty
♦ One 21-pack Mouthpiece Filters and Nose Clips
♦ BodyGem Analyzer Software
♦ A lightweight Carrying Case
♦ A Marketing Materials Kit with posters and trifold brochures
The BodyGem System Kit is the best long-term system, because it has the lowest per-use cost. It is designed for people who want to own their system and not lease.
Additional 21-packs of Mouthpiece Filters and Nose Clips are $299.
When you purchase two 21-packs, you get one 21-pack for FREE.
---
.
The BodyGem Starter System Kit includes everything you need to administer 40 measurements, including:

♦ Body Gem Indirect Calorimeter that's setup for 40 measurements
♦ BodyGem Analyzer Software
♦ 42 Mouthpiece Filters and Nose Clips
♦ A lightweight Carrying Case
♦ A Marketing Materials Kit with posters and trifold brochures.
It uses the same BodyGem device, but is programmed to complete only 40 measurements, which allows us to offer it at a lower price point.
The BodyGem Starter Kit is a great entry level system if you have low volume or don't want to spend the money to purchase the System Kit.
BodyGem Starter Reorder Kits are available to give you everything you need for 40 more measurements, or you can upgrade to the BodyGem System Kit.
Personal trainers typically charge between $50-70 for a RMR measurement, so the BodyGem Starter Kit allows you to generate between $2,000 – $2,800 in revenue.
To get more information:
* Call me directly at 720-431-1461
* Or send me an Email
I wish you the best of health!

David Wilcoxson
BodyGem | BMR Calculator | Indirect Calorimetry | BodyGem Analyzer | BodyGem Mouthpieces | BodyGem Price
Save
Save